Lemons in Primary Colors [Painting I]
Students painted three lemons on a single panel, in each of the three primary colors, using complementary colors to create darker values.
Sarah Thomason, oil on masonite, 8 x 24 in.
Vanitas [Painting I]
After looking at images of still lifes through art history, we discussed the tradition of vanitas still lifes. Students then chose their own objects, and assembled and painted their own vanitas.
Rebecca Wolinsky, Vanitas, oil on canvas, 20 x 20 in.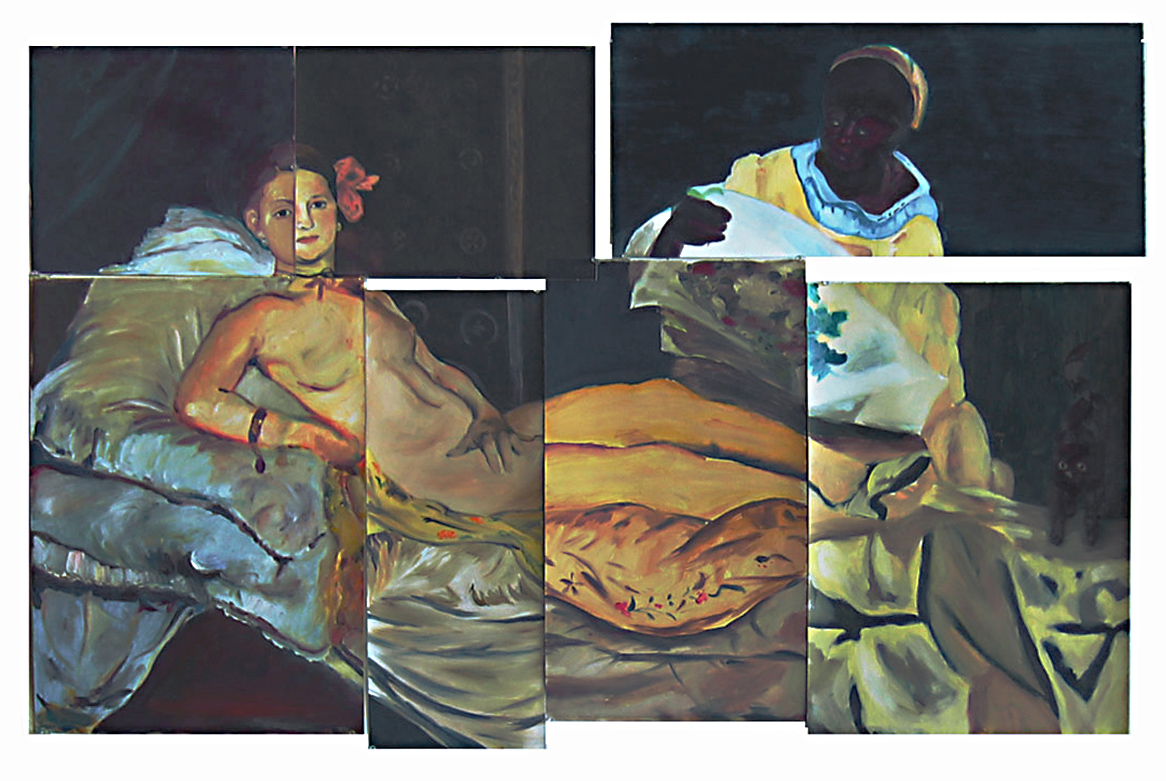 Olympia [Painting I]
We compared Titian's Venus of Urbino and Manet's Olympia, and discussed them in the context of the gaze. We then made a collective version of Olympia from a poster cut into sections, which individual students transferred and enlarged, and then painted in oil on paper.
Final Project [Painting I]
For the final project students devised their own subjects, with the criteria that the work include a sequence of images.
Jessica Wertz, What's Left on the Plate (detail), oil on canvas, six canvases, 8 x 10 in. each
Final Project [Painting II]
Students were free to choose their subjects. Before beginning, each did a series of preliminary oil sketches, which were presented and discussed in a class critique. Students then went on to paint the final piece.
Justin Gruneberg, American Pastoral, oil on canvas, 40 x 30 in.
Expressive Figures/Painted Collage [Foundations]
Students worked from reproductions of he figure from various sources, including images from art history, history, and comics. The images were dealt out like cards, arbitrarily, so that each student's group of images was assembled by chance—although students could trade images with one another before beginning. They then create a drawn "collage" by combining images as they drew on a single sheet. They then added a painted element, with an eye to using subtly mixed hues.
Opal Wortmann, Painted Collage, pencil, marker, and acrylic on paper, 24 x 18 in.
Map and Window [Foundations]
For their final project, Map and Window, students chose a character, which could have been from history, myth, literature, movies, comics, or games. The project was to tell the character's story with images that affirm the picture plane—the paradigm of the map—and images that deny the picture plane—the paradigm of the window. After researching their characters, students created a digital collage containing "map" and "window" elements. They printed the collage, and then added a hand- drawn or painted element.
Robyn Young, Jeanne d'Arc, acrylic on printed collage, 18 x 24 in.